Giant Cargo offers the most modern and efficient service in the international logistics market, working strongly with Air Cargo, Shipping and Customs Clearance for more than 30 years.
We have competitive rates, state-of-the-art communication systems, highly trained staff, our own offices in the main Brazilian cities and agents in all continents.
Managed by professionals in the field and with experienced employees, we offer the speed and flexibility you need.
Our main goal is the personalization of our services to better suit you.
---
TECHNOLOGY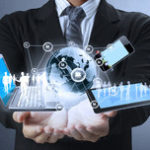 Giant Cargo constantly invests in Information Technology aiming at an improvement of our services.
We rely on redundant cloud data centers and offices with modern hardware and software.
Our dedicated links ensure high performance in internal communication and efficient data delivery.
In our platform of management systems offerers of processes, including the special ones through the Giants that maintains the Import and Export Import and Export data.
Our Temporary Admission and Export controls trigger pre-maturity warnings to minimize risk.
Giantlog allows you to maintain and release loads at the source, giving the Customer the freedom to prioritize their shipments by digital means.
We offer an application in the virtual stores for Android and IOs that allows to accompany the Import Clearance via Smart Phone.
---